Regular price
$9,990.00 USD
Regular price
Sale price
$9,990.00 USD
Unit price
per
Sale
Sold out
Walkolution® now exclusively introduces this wood edition of Woodway USA®'s legendary and famous Nr. 1 performance treadmill, the Curve.
Like all Walkolution® products, the Curve is a completely self-powered, manually operated curved treadmill that provides a unique workout experience that requires no electricity.
The Curve treadmill has been the undisputed #1 high performance treadmill for over a decade and is used in elite sports, military, and high-end gyms and home gyms worldwide.
Optionally available with a fully height and desk adjustable desk attachment similar to other Walkolution products. The desk can be removed without tools when needed, but can also slide forward far enough to stay in place for a short workout.
Protected by international patents.
Treadmill handmade by Woodway in the US. Modifications Handmade by Walkolution in Germany, protected by the Walkolution Signature Lifetime-Warranty.
Includes a signed copy of Death by Sitting. Why We Need A Movement Revolution.
Measures & Weight

SPEED:
Unlimited

INCLINE:
Natural Curve

DIMENSIONS:
Width: 33″ (84 cm)

Length: 67″ (170 cm)

Height: 66.5″ (169 cm)
Lifetime Warranty

All Walkolution products come with a lifetime warranty.
View full details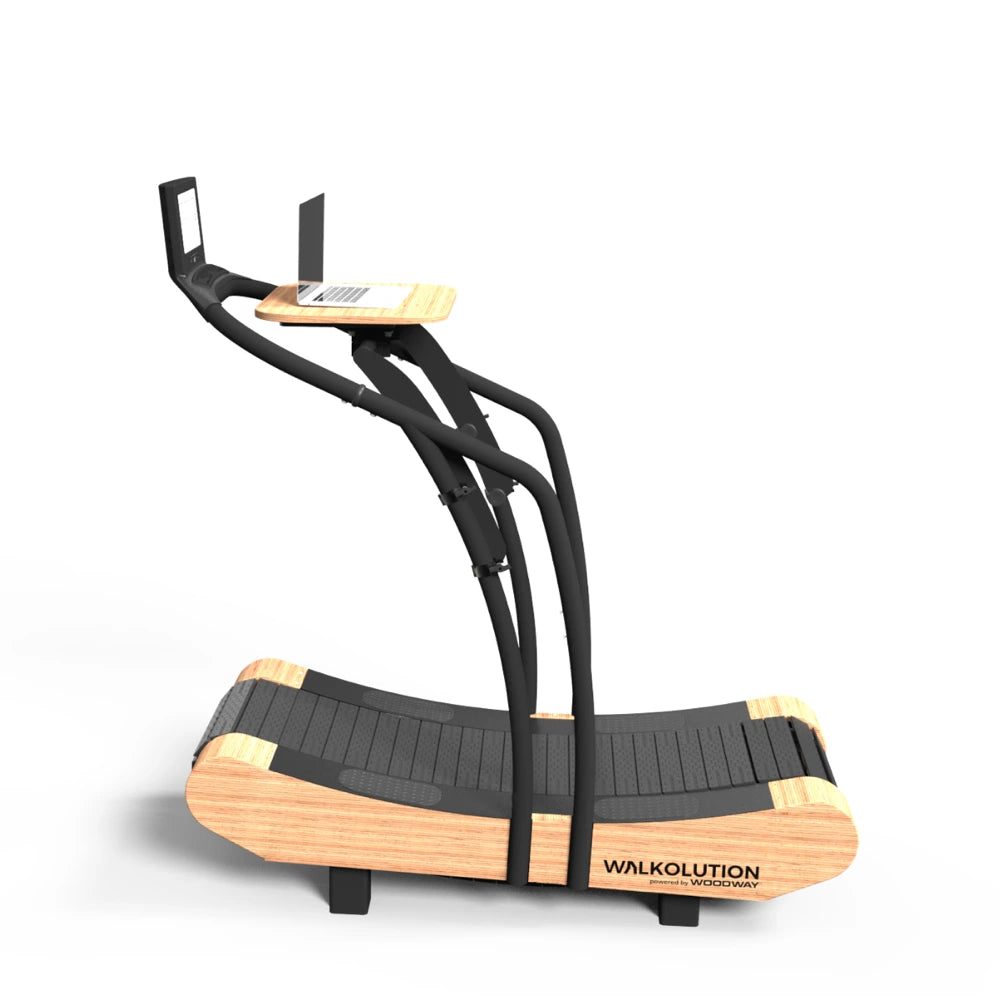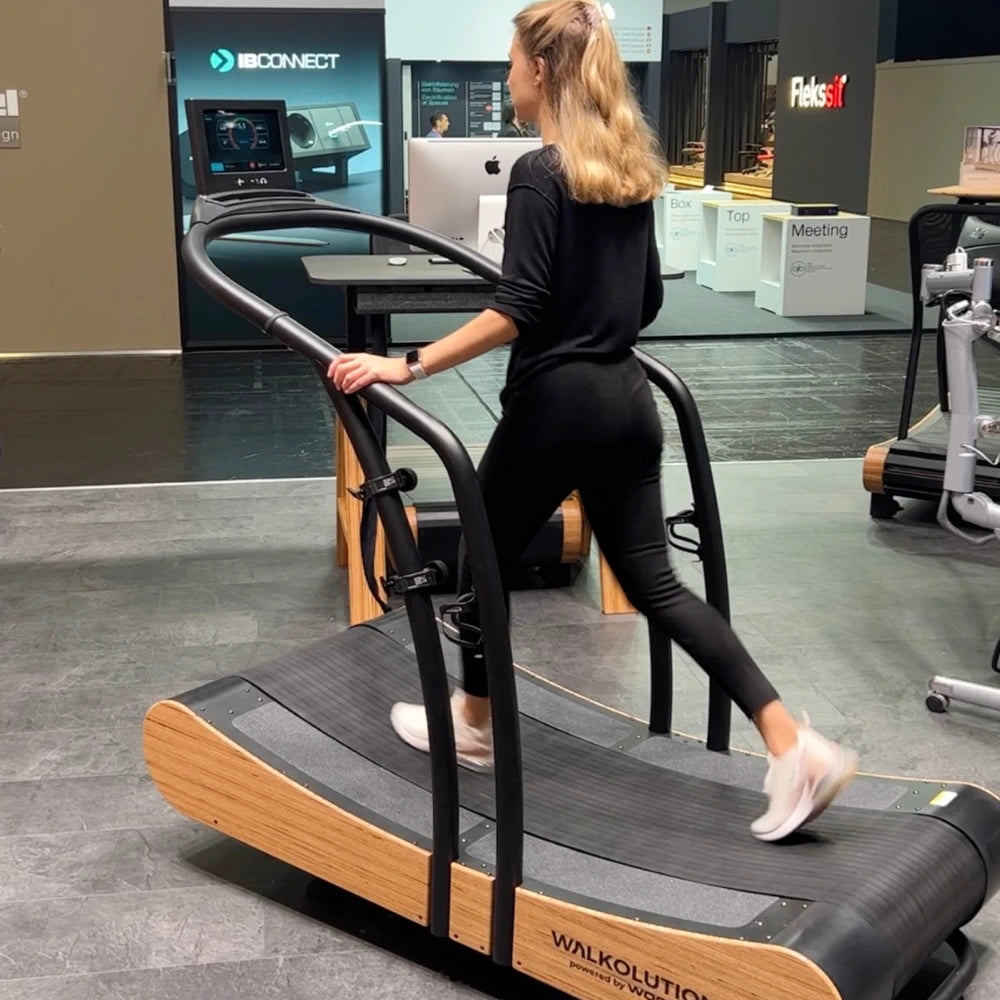 How it works
The Slat Belt System operates with very little friction, enabling the belt to move seamless. When combined with a creative curved running surface, users gain the ability to manage their pace independently. To increase speed, simply start running, and to decrease speed, allow yourself to drift back down the curve.
Increased Results
The Curve offers a versatile solution for a variety of training types including rehabilitation, high-speed training, HIIT, group workouts, and weight loss programs, resulting in improved outcomes. The absence of buttons for adjusting speed simplifies high-intensity intervals and facilitates fast transitions during group training. Additionally, rehabilitation centers utilize the Curve to enhance running form and posture, promote recovery following trauma, and amplify activation of posterior muscles.
Variants
The MT1200 CURVE without and with desk attachment
Ultimate Sports Performance Tool
The Curve Treadmill has gained popularity among professional sports teams and athletes worldwide, providing a workout experience that outmatches all other treadmills. Its unique feature of not requiring ramp up/down speeds allows users to achieve a full sprint in just a few explosive steps. This facilitates sport-specific work-to-rest interval training while eliminating the maximum speed limit.
Optional Desk Attachment
The fully height- and depth-adjustable, heavy-duty desk attachment allows individuals to combine work and exercise, allowing them to use a laptop, read, write or watch videos while exercising, or use the MT1200 Curve as a fully functional silent treadmill desk.

It's adjustability allows users to fine-tune the height and depth of the desk to suit their comfort and posture needs.

Combined with a commercial grade performance speed capability, users can perform high-intensity interval training, sprints or endurance runs for a challenging workout.
Desk adjustment and removal without tools
Adjust the height

Height adjustment of the desk can be easily achieved by loosening the clamps. This allows the desktop to slide up or down along the supporting frame. Once the desired height is reached, the clamps can be tightened to secure the desktop in place.

Removal of the desk

Loosening the clamps enables you also to slide the desk off the supporting frame, freeing up the treadmill, allowing you to quickly reconfigure your treadmill for alternate use cases.

No tools needed

There are no tools required and the clamps can remain in place for easy re-attachment.
Smart Display: Where AI meets FI.
Where Artificial Intelligence meets Fitness Intelligence, the Woodway ProSmart Touchscreen is a revolutionary training console designed to enhance user experience and create a one-of-a-kind workout catered to each individual's goals. With dynamic Smart Coach Programs, entertainment options featuring Virtual Real and Game Runs, browsing and streaming capabilities, and customizable workouts, the ProSmart is designed to capture an incredibly innovative dynamic experience based on each user's specific profile settings.
The intelligence goes beyond just the workout though. The ProSmart allows for full customization providing each facility the ability to personalize every aspect of their user' experience with colors, logos, and themes. Not only does the ProSmart come pre-loaded with workouts, but it also introduces digital heart rate, data analysis via STATS, and much more! #whereAImeetsFI
Companies around the globe use the Walkolution Treadmill Desk
Well-known companies around the world use our treadmills because they care about the health and productivity of their employees and because our high quality meets the demands of these customers.



Learn more about enterprise solutions
Manual vs. electric treadmill desks

Do you want to buy a treadmill desk but don't know which type to choose? In this video, we compare the two types of available treadmill desks: The manual Walkolution and conventional electric treadmill desks.
Discover the world of Walkolution Treadmill Desks
Regular price
From $7,495.00 USD
Regular price
Sale price
From $7,495.00 USD
Unit price
per