Regular price
$7,495.00 USD
Regular price
Sale price
$7,495.00 USD
Unit price
per
Sale
Sold out
Walkolution®'s multi-award winning and ultra-quiet manual treadmill with the iconic integrated desk and standing aid. 

Customize your Wanderlust: The sliding integrated standing desk is available in two widths and four different heights. 

Protected by international patents.
Handmade by Walkolution in Germany. Exclusively distributed in the US by Woodway USA, Inc.
Includes a signed copy of Death by Sitting. Why We Need A Movement Revolution.
🟢 In stock, ready to ship

Detailed description

Compact and quiet treadmill workstation with integrated desk and standing aid. Requires no electricity. Multiple award-winning. The desk is available in two sizes and four heights.

The treadmill

- The world's first silent treadmill (less than 35 dB)
- Maintenance free with lifetime warranty
- Multiple award winning design
- Works without electricity
- High quality and sustainable materials
- Loadable up to 160 kg
- Usable with shoes or while barefoot
- Internationally patented

The advantages

- For concentrated, creative, and efficient work.
- Understood intuitively in minutes by any age group.
- Suitable for home offices, businesses, libraries, coworking spaces, etc.
- The speed of walking is determined step by step by the user.
- The treadmill adapts without time delay.

Integrated desk

- Adjustable depth: it can be pulled towards you or pushed away.
- Remains stable at all times.
- Available in two sizes and four heights.
- The small top (77 cm wide) offers enough space for laptop and monitor and fits through 80 cm wide doors.
- Made of certified beechwood, like the side panels of the treadmill.
- Workout - Desktop can be removed in seconds, no tools required.
- The desk base then serves as a handrail for safety.

Mobility

- Four wheels make the treadmill mobile.
- Easy to reposition.
- The wheels are lockable.
- Suitable for stone and parquet floors.
- Foot set consisting of 4 feet included.
- The treadmill fits through most doors and in most elevators.

Production of the treadmill

- Handmade in Walkolution's own high-tech factory in southern Germany.
- Only sustainable materials are used.
- Side panels are milled from solid sustainable beechwood blocks.
- Running surface made of springy birchwood slats.
- Coating is scratch-resistant, wipeable, and soft.
- Slats slide on industrial grade ball bearings.
- Extremely strong steel frame inside for safe operation and ultimate durability.

Certifications

Certified to the specifications for fitness equipment open to the public (Class S (Studio) in accordance with the European Union's product safety specifications for treadmills and DIN EN ISO 20957.
Measures & Weight

Dimensions
Length 140 cm
width 64 cm
Height 27 cm
(see also size table)

Weight
Treadmill 85 kg (+ stand-up bar: 5.8 kg)
front bar 5 kg
Desk attachment 20 kg

Permissible user weight
160 kg
Lifetime Warranty

All Walkolution products come with a lifetime warranty.
Downloads (3D Files, Spec-Sheet, Assembly Manual)
View full details
Revolutionize your workday with a treadmill desk
Whether writing, reading, meetings - while walking they can do everything they used to use an office chair for. What's more, studies show that people are more productive when we move.


With the MTD700R Wanderlust from Walkolution®, you get all these benefits in a compact and mobile setup that elegantly integrates into any environment thanks to its excellent design.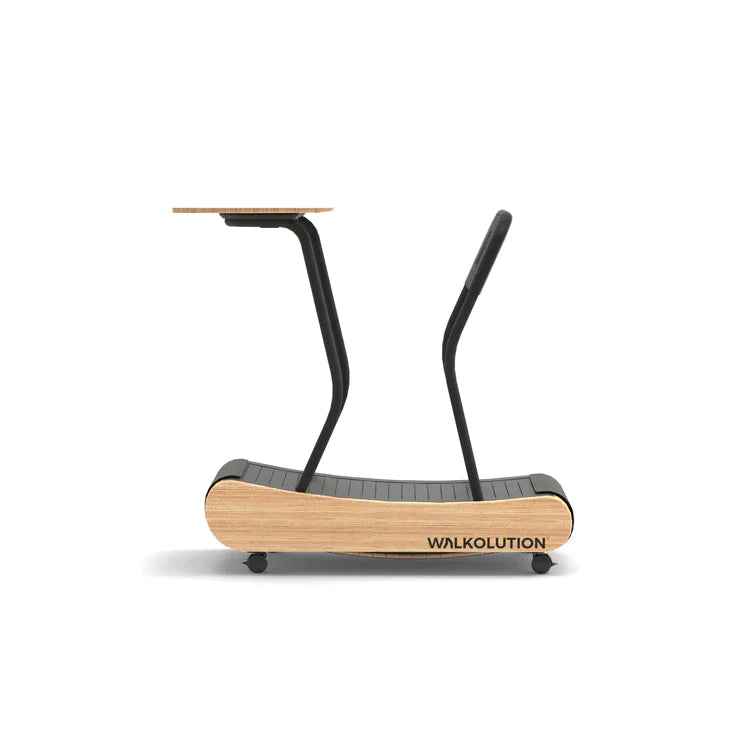 The Masterpiece: An extremely silent and manual treadmill without electricity
The Walkolution treadmill works purely mechanically by means of slats that glide slowly on high-quality ball bearings. The advantages: The treadmill is whisper-quiet and whether you stroll, walk or stop - you decide, intuitively and naturally, from step to step.

These are significant differences to conventional electrically powered treadmills. In addition, the treadmill consumes no electricity and you do not have to worry about electromagnetic radiation.
Elegant wood design with many technical advantages
The wood we handcraft is highly sound absorbent. This is part of the reason why Walkolution treadmills are so quiet in operation. The wood comes from FSC-certified forests in Germany. We use the wood not only decoratively, but also for your walking comfort, because the base of the slats of the walking surface are also made of a 100% unbreakable but still slightly springy special wood.

Quality matters: Why cheap treadmills are not a great idea for your DIY treadmill desk
Many people who want to switch from a standing desk or seated workstation to a treadmill desk make the mistake of trying to use an inexpensive electric treadmill.

If you are serious about your walking workstation, this is not advisable. Here are some reasons why:

1) Inexpensive treadmills (i.e. treadmills for home use (in the price range below approx. 2,500 USD) are not up to the high demands of daily hour-long operation and have a short lifespan due to the intensive load and exhibit mechanical problems, such as annoying noise and motor damage. Walkolution treadmills are virtually indestructible, permanently silent and have a lifetime warranty.

2) An electric treadmill (regardless of price range) gives you a monotonous speed. This is physically and, more importantly, mentally tiring after a short time. The key to being productive while moving on a treadmill is to be able to intuitively adjust your speed with each step. Walkolution treadmills are designed from the ground up to allow you to do just that, giving you complete control so you'll even forget you're using a treadmill.


3) Electricity costs for electric treadmills add up to $1,000 or more a year when used several hours a day. Therefore, be smart and compare costs before making your purchase decision. If you plan to use your treadmill for years, the investment in a Walkolution will pay for itself very quickly.
Companies around the globe use the Walkolution Treadmill Desk
Well-known companies around the world use our treadmills because they care about the health and productivity of their employees and because our high quality meets the demands of these customers.



Learn more about our enterprise solutions
Manual vs. electric treadmill desks

Do you want to buy a treadmill desk but don't know which type to choose? In this video, we compare the two types of available treadmill desks: The manual Walkolution and conventional electric treadmill desks.
Which Walkolution treadmill suits you?

The manual Walkolution treadmill is available in different versions. Find the variant that suits you best. Choose between different table options and decide whether you would like to have a walking surface made of wood or an extra joint gentle surface made of Kybun foam.
Discover The World Of Walkolution
Regular price
From $8,195.00 USD
Regular price
Sale price
From $8,195.00 USD
Unit price
per