Regular price
$12,949.00 USD
Regular price
Sale price
$12,949.00 USD
Unit price
per
Sale
Sold out
The MTD900R Kybun® Wanderlust is the most exquisite addition to the award-winning Wanderlust series. Its incomparable elastic Kybun surface gives you a walking experience as if on soft ground, making it especially gentle on your joints and providing a walking comfort unparalleled by any other treadmill. Each step feels like a pleasant foot massage - and of course you can use the treadmill with shoes too!

Customize your Wanderlust: With two widths and four different heights available, you can find the perfect fit for your Kybun Wanderlust's sliding integrated desk.
Protected by international patents.
Handmade by Walkolution in Germany. Exclusively distributed in the US by Woodway USA, Inc.
Includes a signed copy of Death by Sitting. Why We Need A Movement Revolution.
🟢 In stock, ready to ship

Detailed description

Manual and silent treadmill with the world's unique Kybun soft-elastic running surface. The treadmill comes with the Walkolution standing aid, sturdy handrail and desk attachment. Suitable as an active workstation, high-end fitness equipment or stand-alone solution. The desk is available in two sizes and four heights.



Kybun

- World's unique treadmill surface with Kybun covering for excellent cushioning, recovery and elasticity properties.
- You walk and run as if on soft forest floor
- Exercises leg, foot, back and core muscles, including deep muscles.
- Protects the joints at the same time
- Promotes balance, coordination and fine motor skills
- Also suitable for rehabilitation and physiotherapeutic applications - Perfected in more than two years of development work, in close cooperation with Kybun, the Swiss market leader for orthopedic shoes and physiotherapy
- Internationally patented



The treadmill

- The first almost silent treadmill in the world (less than 39 dB)
-Maintenance free with lifetime warranty
-Multiple award winning design
-Functions without electricity
-High quality and sustainable materials
-Loads up to 160 kg
-Can be used with shoes or barefoot



The advantages

-For concentrated, creative and efficient work
-Intuitively understood in minutes, by any age group.
-Suitable for home offices, businesses, libraries, co-working spaces, gyms and rehabilitation facilities.
-The speed of walking is determined by the user, step by step.
- The treadmill adapts without any time delay.
-Interval training and sprints are also possible. For this we recommend the handrail that can be mounted at any time. Available in four sizes.


Including standing aid

- For the little rest in between
- To lean back
- Safe: The treadmill stops and locks in the opposite direction when you lean back.
- It is never in the way even when walking or running fast
- Covered with elastic nylon for a comfortable resting position
- Removable at any time


Integrated desk

- Is adjustable in depth: it can be pulled towards or pushed away.
- Remains stable at all times
- Available in two sizes and four heights
- The small top (77 cm wide) offers enough space for laptop and monitor - and fits through 80 cm wide doors.
- Made of certified beech wood, like the side panels of the treadmill
-Train: Desk top removes in seconds, no tools required.
- The desk base then serves as a handrail for their safety.


Mobility

- Four wheels make the treadmill mobile
- Easy to reposition
- The wheels are lockable
- Suitable also for stone and parquet floors.
- The treadmill fits through most doors and in most elevators.



Production of the treadmill

- Handmade in Walkolution's own high-tech factory in southern Germany
- Only sustainable materials are used
- Side panels are milled from solid sustainable beech wood blocks.
- Running surface made of springy birch wood slats
- Coating is scratch resistant and soft
- Slats slide on industrial grade ball bearings.
-Rock solid steel frame inside for safe operation.
Measures and weight

Dimensions
Length 145 cm
width 64 cm
Height 29 cm


Weight
95 kg (+ standing aid: 5.8 kg)
Table attachment: 15kg

Permissible user weight
160 kg
Lifetime Warranty

All Walkolution products come with a lifetime warranty.
Downloads (3D Files, Spec-Sheet, Assembly Manual)
View full details
10,000 Steps A Day?
This much-cited figure, though scientifically disputed, is a good indication of what you can do with Walkolution by lunchtime.

Almost everything you would normally do sitting down, you can also do with light movement.

With the soft and joint friendly Kybun surface, your investment pays off with every step you take. The quietness of the treadmill, which is unique on the market, also allows the sound to fade into the background. You are completely undisturbed during video conferences, phone calls, and concentrated, demanding work.
A Big Step Closer To Nature
The use of solid beechwood in this treadmill is not only decorative, but also functional. Both the Kybun surface and the beechwood enhance walking comfort and the beechwood has a sound absorbing effect.

The deliberate slight unevenness of the running surface due to the Alternating Compression Zones (ACZ) makes it feel as if you are strolling along natural terrain.

Enjoy effortless movement that you can incorporate into your diverse activities at any time. This extraordinary piece of furniture seamlessly integrates into and enhances any home or office environment with its minimalist design.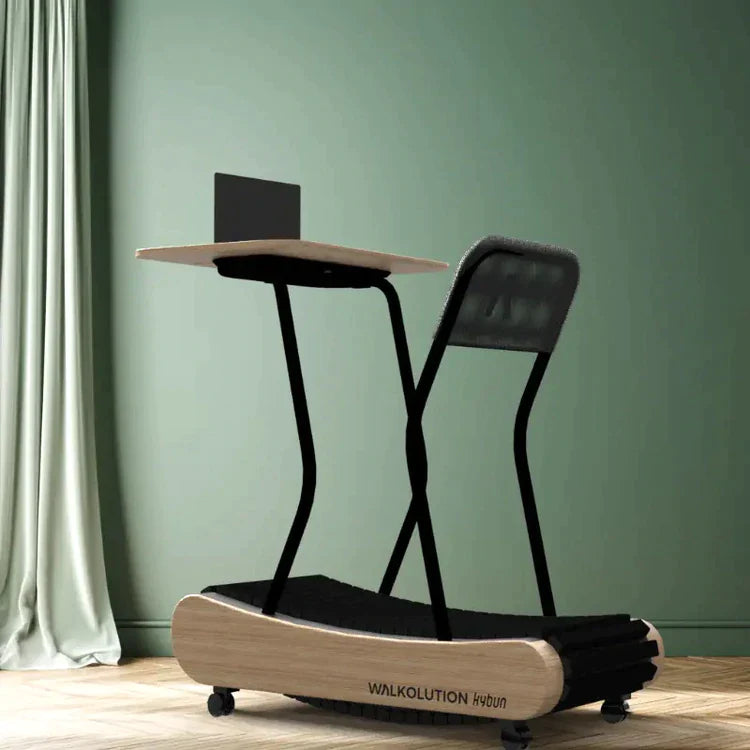 Handcrafted German Engineering For Your Health
A Walkolution treadmill is indestructible and maintenance-free. You should be able to enjoy it for the rest of your life, which is why we offer a lifetime warranty. In order to maintain the high- quality standards, we produce the product ourselves in Walkolution's own high-tech factory in southern Germany.

More than two years of developmental work have gone into the patented Kybun Edition, which is unique on the world market.
Fits Like A Tailored Suit
At the time of the purchase, the height of the handrail is determined by the height of the customer. The 4 available sizes can be fine-tuned for an optimal fit. You can find a size chart in the product images above.

If there are multiple users of different heights, we recommend using a monitor riser or monitor arm that can be attached to the tabletop.

Customers can also purchase a handrail in an alternative size in the accessories store. If you want to use the treadmill with an external desk, the handrail can be easily removed.
Simulate Walking On A Forest Floor
Every step is like a foot massage

The world's unique treadmill surface with elastic springy lamellae is built cooperatively with Kybun (formerly MBT), the Swiss market leader for orthopedic shoes. It was brought to perfection during more than 2 years of development and research.

The impulse-active compression zones allow the feet to sink to different depths for optimal rebound. Kybun's patented method has been tested and certified by the IGR Institute for Health and Ergonomics, among others.

Alternating Compression Zones (ACZ)

Our anatomy is perfectly designed for walking on uneven surfaces. With a degree of hardness that varies from slat to slat, the Alternating Compression Zones (ACZ) give you the feeling of walking or running over a soft forest floor with a constantly changing surface.


This feature, unique in the world market, stimulates and trains the deep muscles and proprioception and prevents injuries caused by one-sided continuous loads.

Optimum training effect thanks to soft bumps

The rebound effect and the different degree of hardness cause alternating muscle tension and relaxation. This optimizes the training effect for the leg, foot, back, and torso muscles while improving balance and coordination.

Anyone who leads an active life or who suffers from degenerative joint diseases needs to focus on protecting their joints.
Used By Leading Companies
Well-known companies around the world use our treadmills because they care about the health and productivity of their employees and because our high quality meets the demands of these customers.


Learn more about our enterprise solutions 
Manual vs. electric treadmill desks

Do you want to buy a treadmill desk but don't know which type to choose? In this video, we compare the two types of available treadmill desks: The manual Walkolution and conventional electric treadmill desks.
Which Walkolution treadmill suits you?

The Walkolution Manual Treadmill is available in different versions. Find the version that suits you best. Choose between different table options and decide whether you want a wooden walking surface or an extra joint friendly Kybun foam surface.

Discover the world of Walkolution
Regular price
From $14,125.00 USD
Regular price
Sale price
From $14,125.00 USD
Unit price
per